Retirement Spotlight: Nate Dally
Meet Nate Dally who recently retired from Augustana as assistant vice president for annual giving and alumni relations, and find out why relationships and friendships are so important in a successful 31-year career in Advancement.
Q: Where are you originally from and where did you get your education?
A: I was born and raised in Sioux Falls and went to high school at Washington. From there I went to Concordia College and double majored in political science and English and minored in business administration. I went to grad school at the University of South Dakota and then came back and did more post graduate training in business at Augustana, allowing me to have triple majors.
Q: Why did you choose Augustana as your professional home?
A: I was working in retail as a store co-manager and responsible for a staff of more than 25 and bringing in seven figures in annual sales. The company I was working at was all about making money, the bottom line and ROI [return on investment]. I enjoyed the challenges, the customers, and my colleagues. A friend of [my wife] Mary's told her about this job at Augie in development. I had a good experience in taking classes at Augie in the spring of 1985 and had some previous experience in development, volunteering in the office at Concordia College in exchange for a free meal! So, I was fortunate to earn an interview, and I walked into the room and was met by a bassoonist, biology teacher, basketball coach and a preacher. The vice president of development at that time was not part of the interview but he told the preacher not to hire me, because he said I would be taking a large reduction in pay to work here and he would not be happy and stay very long. Well, that was almost 31 years ago and 13 vice presidents/interim vice presidents and six presidents ago. I am grateful to have been hired and honored to work here. I have tried to give 110 percent every day and make a positive difference.
Q: What is the one thing that has kept you at Augie for more than three decades?
A: I felt a calling to go to Augustana. At Augie, I could help students go out and make a difference in the world to be teachers, preachers, doctors, lawyers, nurses, business people, coaches, volunteers, civic leaders, and Sunday school teachers. Early on I heard a phrase at Augie: 'enter to learn and leave to serve.' That motto has sealed the deal.
Q: What's the best part about your job?
A: Seeing the joy of giving and receiving. It's been 31 years and I'm the longest-serving development officer in the history of Augie. Also, it has been a privilege to work with more donors and match up their interests with the school's needs than anyone else in the history of Augie. It is humbling to be part of securing transformational gifts from friends with colleagues and being part of comprehensive, transformational campaigns. Recently, I heard a fundraising consultant say you cannot have a relationship or friendship with your donors. My career proves that statement is not true. Development is not a transaction but something much greater. Philanthropy's bottom line is humans caring for and helping other humans. Throughout the years, I have witnessed the joy in giving and receiving thousands of times. It has been an honor to have relationships with so many alumni and friends. I am beyond blessed.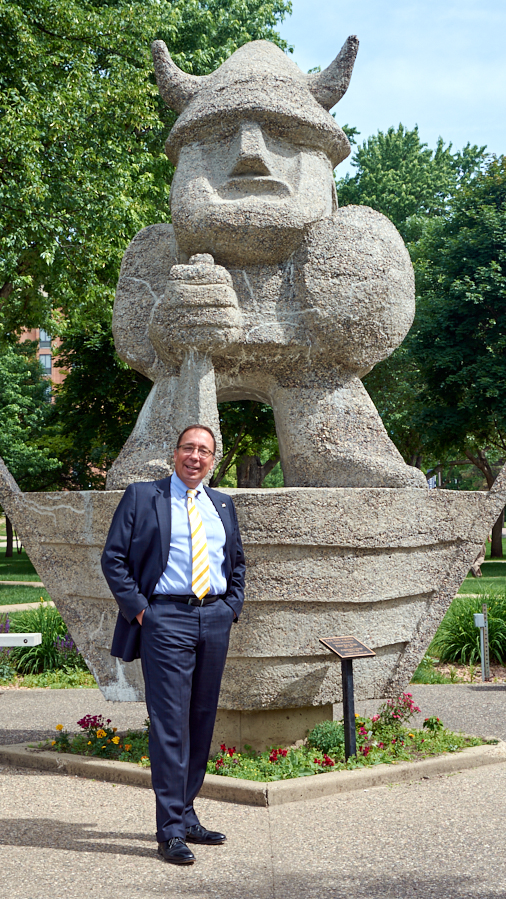 Q: What will you miss most about being on campus every day?
A: Seeing our students growing, graduating, and making a difference in the world. Seeing friends falling in love with the mission of Augie and believing in its five core values. Also, I'll miss climbing the stairs to my office.
Q: What are your plans for retirement?
A: Spending time with family and friends. Mary and I will be celebrating our 33rd wedding anniversary this year! And I want to spend more time with my three children. We are talking about doing some traveling; maybe a family trip to Iceland. I also have several hobbies that I hope I'll be pursuing further such as fishing, hiking, biking, running, racquetball, tennis, downhill skiing, hunting, DIY projects around the home, reading, and cheering on the Minnesota Twins and Vikings.
Q: What advice do you have for your colleagues at Augie?
A: Stay with your organization! Do not be a job jumper! The average tenure for a nonprofit development officer is three to four years. It takes five to seven years for a donor to decide on making a major gift in a stable environment with a president and/or development officer. Finally, remember it is about developing a rapport with individuals, which will lead to a lasting friendship/relationship.
Each gift matters! If you'd like to donate to Augustana University, visit with one of our members of Advancement today!