Rigorous and Relevant: Augustana's MBA Fills Industry Needs, Elevates University
Augustana's new Master of Business Administration program seeks to fill industry needs while elevating the university.
A year ago, Madden Pikula's plans seemed pretty straight-forward. The junior fitness management major had designs on someday opening his own dental practice. He figured he'd graduate from Augustana University and then enroll in dental school.
But that all changed in November 2019. After years of intense study and gathering input from university alums and business leaders in Sioux Falls and beyond, Augustana announced the addition of a new Master of Business Administration degree to its graduate education portfolio.
The program's first cohort of 18 students is set to begin in the fall of 2020, and Pikula hopes to be part of that inaugural group. "I think a lot of dentists would say that you learn some business in dental school, but as far as opening a practice and really understanding what's going on, that probably would have gone over my head," Pikula says. "When the MBA finally got announced I was ecstatic because it really matches up perfectly for me."
Augie will offer two versions of the MBA. The 4+1 option for current undergraduate students will allow the completion of both an undergraduate and graduate degree in five years. The two-year program for working professionals, set to begin in the summer of 2021, will include a mix of online and classroom instruction. Both options will feature a leadership academy, in which students are paired with business mentors.
Talk of an MBA goes back nearly two decades, but really gained steam following a 2016 feasibility study that examined curriculum offerings throughout the entire business program. The result was a strategic plan that called for the addition of several new majors as well as serious research into the development of an MBA program.
The numbers suggest that students holding an MBA will be in high demand in coming years. According to the Graduate Management Admission Council's hiring trends report for 2018, recruiters say the need for applicants with an MBA will increase by 7 percent in the next year.
To verify their findings, business faculty in 2019 reached out to 7,000 Augustana alums who graduated between 1970 and 2015. Those with MBAs were asked what they liked about their program and those without explained what they would want. "The end result was they thought that Augie should develop an MBA but it needs to be the quality that Augie is known for, that it shouldn't infringe on the quality of the undergraduate education and that it should have an emphasis in a couple of areas. The most requested of the emphasis areas was leadership," says Dr. Jaciel Keltgen, an associate professor of business administration.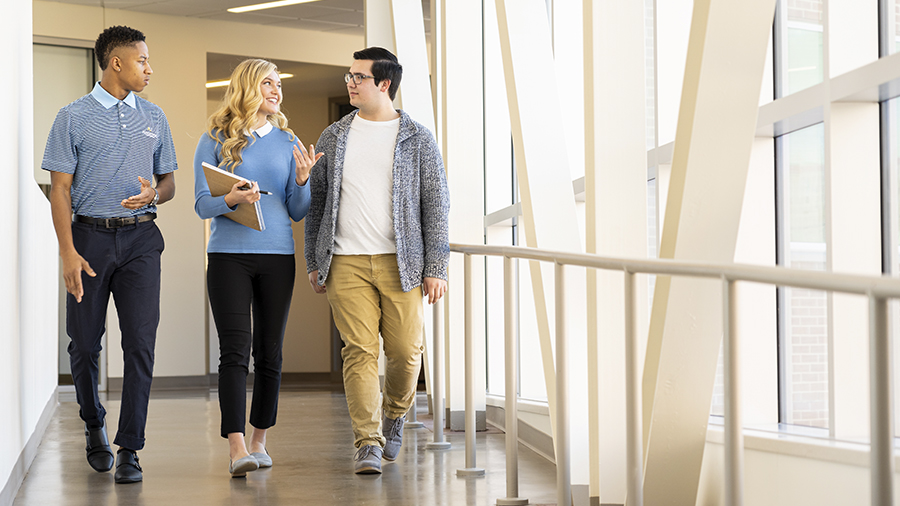 Keltgen led efforts to devise a curriculum that earned approval from the full faculty. The 4+1 option is open to juniors, and it's not restricted to just business majors. "It's designed to welcome students of any major as long as they've completed three prerequisite courses," Keltgen says. "We're a liberal arts university, so we believe students prepared in the liberal arts understand problems, generate solutions, communicate effectively and strengthen communities. Then if they choose, they can take that intellectual curiosity into an MBA program. Our MBA alums will add a lot of value to any organization."
Professionals interested in the two-year program will need a GMAT score, a short essay, two letters of recommendation, a 3.0 GPA and must complete the prerequisite courses.
Perhaps the most unique aspect is the leadership academy, open to students enrolled in both options. "They are matched with a mentor — somebody who has the leadership position that they are interested in, or the industry or even the specific business — so the student becomes a fellow," Keltgen says. "Mentors are experienced businesspeople in the community; Sioux Falls is rich with a variety of really exciting and progressive businesses. That mentor will contribute to the student's understanding and application of specific ideas, and the student fellow will certainly contribute to the mentor's updated approach to business practices."
As an example of the collaborative relationship fostered within the leadership academy, a class during the final semester — Creating and Executing Strategy — the mentor and student will work together to analyze and solve a problem confronting the mentor's business or industry. "It's another way for students to give back to the community and to feel confident that they have the skills and abilities to solve complex business problems and contribute to organizations," Keltgen says.
The MBA program is an exciting addition to the university's graduate program offerings, the expansion of which is a focus of Augustana's 10-year strategic plan, Viking Bold: The Journey to 2030. The plan also has among its goals expanding the performing and visual arts; growing enrollment and enhancing diversity among students, faculty and staff; establishing colleges, schools, new programs and new majors in the liberal arts tradition; transitioning to a Division I intercollegiate athletics conference; and investing in physical campus improvements, including an expanded and renovated student union and new student housing.
"This program will elevate Augie by virtue of its rigor and its relational approach to teaching and learning," says Dr. Colin Irvine, Augustana's executive vice president and provost. "As is the case with all Augustana academic programs, this one will challenge students to think deeply and differently. It will push them to pose and pursue timely and important questions, and it will require them to work alongside classmates and even colleagues to understand long-standing principles of best business practices as well as emerging trends and innovations. It will do these things while at once drawing upon our core values and, in particular, our commitment to excellence and to community."
Keltgen is confident the new program will produce the same quality of professionals that the business community in Sioux Falls and beyond has come to expect from Augustana. "Alums are proud of their degree and of Augustana, and employers are, too," Keltgen says. "One thing we heard consistently in our surveys was, 'Please maintain the level of respect that we have due to the fact that we graduated from Augustana, or the success we enjoy as a business because we employ Augustana graduates. Be sure that the MBA program is different than competitors' offerings and that you inject rigor and relevance.'
"This program must be relevant for students, and we've considered every course objective and every outcome. It's going to carry on and enhance AU's reputation for excellence."
---
Media Inquiries: Contact Jill Wilson, public relations and communications strategist.