Sandy Pohlmann Named 2020 Augie Pride Award Winner
Sandy Pohlmann, coordinator of conferences and scheduling, is the 2020 Augie Pride Award winner. She was notified by a surprise Zoom call with Augustana President Stephanie Herseth Sandlin on Friday, May 1. The Augie Pride award recognizes exceptional service to the university. Since 1999, 27 Augie Pride awards have been presented.
The 1990 Augustana alumna holds degrees in computer science and management information systems with a minor in business administration. She has spent almost eight years on campus and was completely surprised by the announcement.
"When the meeting got set up I thought it was to discuss upcoming events," Pohlmann said. "I certainly wasn't expecting that — it completely made my day."
Pohlmann says the best part of her job is the opportunity to be "allowed to speak with and do service for almost every Augustana employee, as well as visiting individuals and groups from our community and beyond. I work very closely with the logistics staff and what we do together is sort of the cornerstone of all events on campus. It is rewarding to be part of a good team."
One nominator of Pohlmann wrote, "She reaches out to anyone she perceives as needing a kind word, a nurturing moment and helps in any way she can."
Another added, "She excels with the duties given to her, but above and beyond that, she cares deeply about her peers, the students, and the Augie community."
What piece of advice does Pohlmann have for her peers, the groups of people she works with, and the students she encounters?
"My advice to all people is to do unto others as you would have them do unto you," she said. "Treat people fairly and with grace. My goal has always been to leave people feeling like they matter; they have value. We all need that some days."
That's one mantra that stood out to another nominator.
"No matter the day, she has a positive attitude and a smile on her face."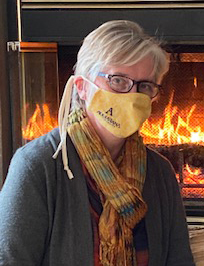 And even during tough phases, like the COVID-19 pandemic, Pohlmann has an outstanding outlook and has no doubt the Augie community will succeed.
"As Augustana recovers, and we will, from this pandemic period, while also focusing our attentions on upholding the 2030 strategic plan, we will all have to dig deep. Let's hold each other's hands when we can, remind each other that we matter, and forge forward — together!"
When asked if Pohlmann wanted the Augie community to know one thing, she said she just wanted to express how grateful she is of receiving this award.
"Thank you, Augustana, for this humbling, super giant surprise of an award. You certainly made my day and let me know that I have value. I will use that to continue to serve," she said.  
---
Media Inquiries: Contact Jill Wilson, public relations and communications strategist.