Upcoming Events and Programs
Join us for the following 2020-21 events sponsored or supported by the Office of Diversity and Inclusion.
If you have any questions, email Willette Capers.
DACA information and resources
South Dakota Voices for Peace has set up a DACA Renewal hotline for DACA recipients who may be eligible for one last renewal. Visit South Dakota Voices for Peace to get connected. Please view resources with immigration lawyers and BIA accredited reps who are taking these cases.
---
Diversity Advocate Certification Program
The Diversity Advocate Certification program at Augustana University provides participants with the tools needed to become change agents through the demonstrated use of acquired knowledge, support, and awareness, aimed at creating an inclusive environment. Upcoming events are located below.
Learn more about registration or contact Willette Capers, Augustana diversity, equity, and inclusion director.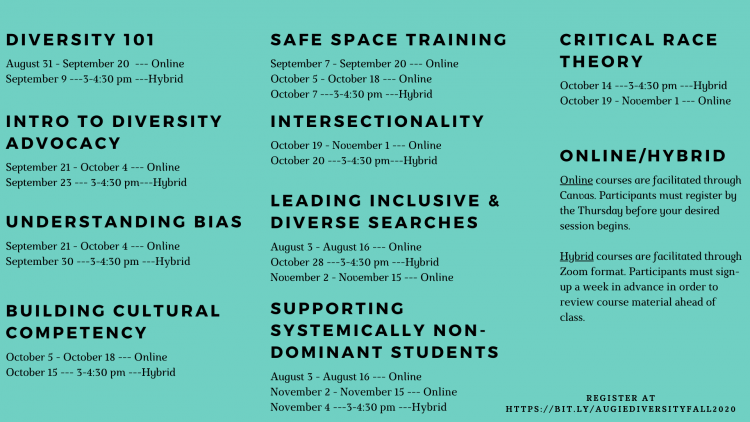 ---
Mindful Monday's
The Augustana University Diversity Ambassadors and Lost & Found present Mindful Mondays. This event is a weekly series focusing on mental health in systemically non-dominant communities. Join us virtually here every Monday at 6 PM.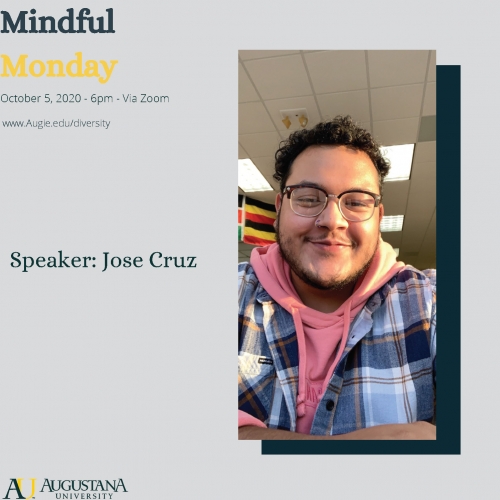 ---
The Augustana Freedom Writers Project
The Freedom Writers Project is an opportunity for the Augustana community to share their truth, story, and experiences regarding social justice. The project provides Augustana students an outlet to reveal their passion for change while educating others on the experience of growing up and living in a society that still does not treat everyone equally.
Although the most visible part of the Freedom Writers Project at Augustana is a contest that will publish the best-told stories, we hope that this project penetrates Augustana's culture while celebrating diverse voices and forms of expression. These stories are essential to the fabric of Augustana, and we believe these stories and voices deserve a platform. 
Essays will be evaluated based on the richness of voice, storytelling ability, authenticity, and how well one speaks their truth. 
Prizes Include:
1st Place: $150 Scholarship and custom t-shirt
2nd Place: $25 to Augustana Bookstore and custom t-shirt
3rd Place: $15 to Augustana Bookstore and custom t-shirt
Enter your submission to th project by entering your information here. 
In the past couple of weeks, we have seen a resurgence of attacks on Black bodies. We have seen the deaths of Ahmaud Arbery in Brunswick, Georgia, Breonna Taylor in Louisville, Kentucky, and George Floyd in Minneapolis, Minnesota. It is because of these tragic events; I wanted to share with you some advice and tips on what you can(should) do to support.
In these difficult times, be brave, and reach out to people of color in your network and circle of trust. Let them know you are thinking of them and provide support. Remember to listen to understand, not to respond. Leave your ego and defensiveness at the door. Take the time, and truly listen.
Educate yourself. It is important to know that it is your responsibility to educate yourself, no one else. Here is a link with resources for allies and accomplices to aide in your anti-racism work.
Be sure to remember, when you hear and see folks declaring that "Black Lives Matter," don't respond that "All Lives Matter." In theory, yes, all lives matter; however, right now, we are concerned with the lives of Black folks who are suffering tragic deaths due to social injustices, anti-blackness, and systemic disregard of their lives. Therefore, Black Lives Matter.
If you need additional support, you can reach us at diversity@augie.edu or our campus partners listed below.
Counseling Services — 605.334.2696
Dean of Students Office — 605.274.4124
Peace, love, and kindness be with you all.